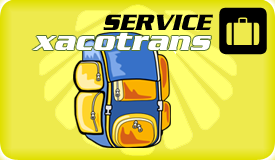 We take your backpack or suitcase to Santiago
If you're headed to Santiago de Compostela, we transport your backpack or suitcase for stage (25-30 km). Historic area of Santiago for 5 euros.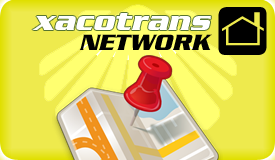 More than one hundred establishments between Sarria and Santiago work with us
Check the list of hostels, cottages, inns and hotels that work with us where you can book your accommodation and package transfer. You can locate them easily here.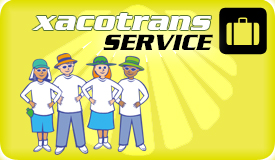 We transport groups
We adapt ourselves to your needs. We transport groups in our minibus (28 passengers) and have a taxi (6 passengers + driver) and now trailers for 4 or 12 bikes!
How does the service work?
In advance
Call us the previous day before 22h30 pm or on the same day between 7h30 am and 8h30 am .
Tell us in which establishing we pick up your backpack or equipment and to which one you want us to take it (local delivery can be anyone, not just those in our RED collaborators).
Do not forget to request and fill in the identification label and take the receipt (which we require in delivery).
Fill and print your label from here and paste it into your backpack before starting.
VITAL
DEPARTURE TIME
XACOTRANS vehicles depart daily from Sarria, Palas de Rei and Melide at 9h00 am.
delivery schedule
We leave your backpack or other package at your destination before 13:30 h.
Important
The transfer of bags or other equipment is carried out from establishment to establishment .
For longer distances or other directions, check prices.
We start in O Cebreiro for concerted services.
We assumet no responsibility for items that hang package or do not go properly closed.